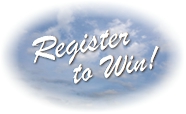 Register to Win!
We want to invite you to register to receive e-mail notices of all our upcoming programs and events. In addition, we will send an e-mail that gives you three chances to win a door prize at one of our monthly Chapter meetings. Just bring a copy of our response email to receive your 3 free drawing tickets.

If you decide to become a member of EAA Chapter 1246, the annual dues are only $20 and you can join on-line by clicking here. An extremely valuable benefit to being a member is the on-line access that you will have to our searchable database of all pilots and aircraft owners in our geographic area. You can find anyone who owns (or is building) an airplane of the type that interests you. You can also locate other pilots and aviation enthusiasts, including other EAA members in our Chapter. The search can be as broad or as specific as you want. This incredible resource is available exclusively to our paid-up Chapter members.

We invite you to come to one of our meetings or events and discover the benefits of participating in the educational and fun activities of our Chapter. The combined knowledge and experience of our members is awesome, and they are willing to share. There are informative and entertaining presentations at each of our meetings, which cover a wide range of aviation-related topics. Our interests go way beyond building and maintaining experimental aircraft.
What is EAA?
The Experimental Aircraft Association is an organization that promotes all forms of recreational aviation. The EAA was organized in 1953 in Milwaukee, Wisconsin, by some individuals who were interested in building their own aircraft. Over the years it has grown to include all types of aircraft, from ultralights to commercially manufactured aircraft. An interest in aviation is the common denominator that brings our people together, in good fellowship and sharing. The EAA is a national organization and has local chapters, such as ours, all over the world. You don't have to be a pilot to join in, the only requirement is a love for aviation.